Addressing Multiple Tooth Loss with Dental Implants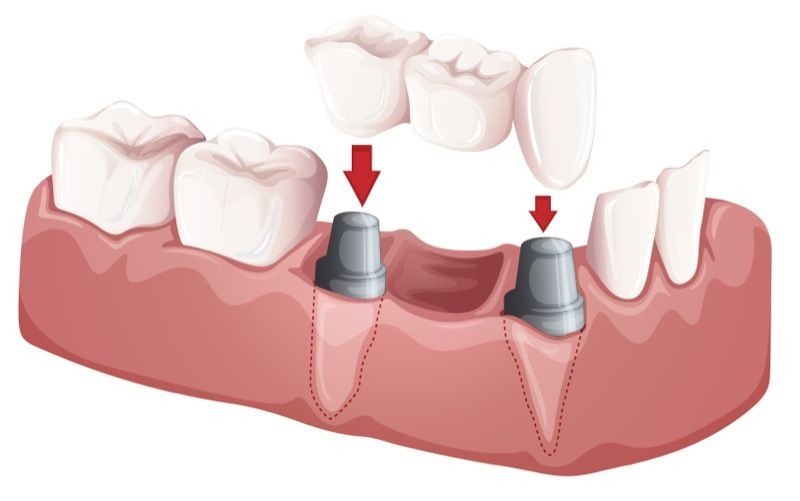 The loss of a single tooth can compromise the entire structure of the smile; multiple tooth loss has an even greater impact. Multiple tooth loss compromises oral functions and threatens the strength of the jawbone, which can ultimately lead to sunken facial features. There are many restorative treatment options to repair tooth loss, but only dental implants address all of the side effects of significant tooth loss.
Dental implants replace the roots of missing teeth, act as an anchor for a range of dental restorations, and provide the jaw with stimulation to promote the continual growth of healthy bone tissue. For these reasons and many others, the best option for patients with multiple tooth loss is dental implants treatment at our Richardson, TX practice. Drs. Dr. Le and Kari Blankenship can discuss the dental implants procedure in further detail and help patients determine which restorations are best-suited for their unique case of tooth loss.
Dental Implant Treatment
Dental implant treatment takes place over a span of several months and requires multiple procedures. The first step of dental implant treatment is the placement of the implants themselves, which are actually tiny titanium screws. A series of screws will be implanted into the jawbone at the site of tooth loss. The number of implants that are placed will depend on how many teeth have been lost, though it is not necessary to place an implant for each missing tooth.
Once implants are placed, the patient will be given several months to heal while the implants fuse with the patient's natural bone and tissue. After this has occurred, the second step of treatment will involve revealing the top of the implants and securing them to abutments. Abutments are small metal posts that extend above the gum line.
Following a short recovery period, the final step of treatment will involve attaching the appropriate dental restorations to these abutments so that they are secured by the dental implants. While dental implant treatment is lengthier than other tooth loss treatment options, the results are much more long lasting. Once implants have fused with the jawbone, they should last for the duration of the patient's lifetime.
Restorations for Multiple Tooth Loss
Dental implant treatment is personalized to the specific needs of each patient and is a great option when multiple teeth have been lost. Below are some of the restorations that can be secured to dental implants when a group of teeth are missing:
Dental bridge: A dental bridge fills in a gap of missing teeth to rebuild the strength and beauty of the smile. Dental bridges are ideal when a small set of teeth has been lost from the same area of the mouth.
Partial dentures: Partial dentures are another option when multiple teeth have been lost. Dentures that have been secured by dental implants are much sturdier than removable dentures and provide enhanced comfort and security.
Fixed arches: Fixed arches are the most appropriate treatment when a complete arch of teeth has been lost. Rather than adhering an arch of teeth with messy paste, we can provide our patients with a secure, fixed fit. With as little as four dental implants, we can permanently affix an arch of teeth to provide patients with the ultimate degree of strength, security, and durability.
Contact Us
If you have lost multiple teeth, dental implants offer the most comfortable, secure, and durable tooth loss treatment. To learn more about the dental implant procedure and find out if you are an ideal candidate for treatment, contact us at your earliest convenience.
Related to This